Medical Director
Edward Kim, MD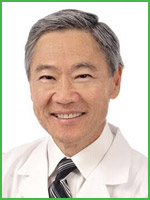 Dr. Edward W. Kim has been a practicing ophthalmic surgeon at Harvard Eye Associates since 1980. After graduating with honors in chemistry at Occidental College, he went on to receive his medical degree from UC San Francisco.
Finishing his medical school early, he went to UC Berkeley in his senior year to earn a Masters of Public Health, followed by an internal medicine internship at San Francisco General Hospital. He completed his ophthalmology residency at Harvard Medical School, Massachusetts Eye and Ear Infirmary, Boston, followed by a specialty fellowship in retinal diseases at MEEI. He was appointed Clinical Instructor at Harvard Medical School.
He is a member of the American Academy of Ophthalmology and has been board certified by the American Board of Ophthalmology since 1980.
Dr. Kim has served as an Associate Clinical Professor in the Department of Ophthalmology at UC Irvine, where he has taught ophthalmology residents for nearly 20 years. He has served as Chief of Staff at South Coast Medical Center.
He has volunteered in numerous international eye surgical missions. He has taught other practicing ophthalmologists in techniques of advanced cataract surgery, serving as program director in courses given in Denver, Boston, and Dallas. He has published in peer-reviewed journals and has been selected as a Physician of Excellence by Orange Coast Magazine.